[2022 Year of the Tiger, a prosperous year for tigers!
The new model "Ask M5", which is a joint venture between Jinkang and Huawei, is expected to start mass delivery in March.
The M5 will be produced in Chongqing's Liangjiang factory, which can produce 30 units per hour and 15,000 units per month.
January 9 this year, Huawei managing director, consumer business CEO, smart car solutions BU CEO Yu Chengdong in Shenzhen headquarters with the media, said the plan to the end of this year, the first one thousand stores to sell cars. "Assuming that each store can sell 30 units per month, monthly sales will be able to reach 30,000 units, and this year Huawei will challenge the sales target of 300,000 units, so that the sales of cooperative car companies reach 100 billion yuan a year."
What can you do with 2 minutes?
You can run 500 meters, read a short article, write 30 English words, and when these two minutes are supported by technology, the value it can create is beyond imagination.
Strategic cooperation with Huawei Jinkang new energy intelligent factory, two minutes can build a car, what kind of new energy car production line speed can be so fast?
The Chongqing Liangjiang Plant of Jinkang New Energy Vehicle pays great attention to the design and manufacture of industrial equipment, and the matching of human factors and efficient human-computer interaction in the workshop and workplace, as well as the improvement of the environment.
In order to achieve high-frequency and high-precision operation under efficient production beat, based on the many problems of EHS-related ergonomics of the welding adjustment line of the previous model, we found Hai Tong Industry, which specializes in EHS ergonomics booster equipment, and hope to provide Jinkang with an overall solution to improve production efficiency and safeguard the work health of industrial workers.
After on-site mapping and inspection, Hai Tong Industry began to start the work of human factors engineering production line technology empowerment with Jinkang.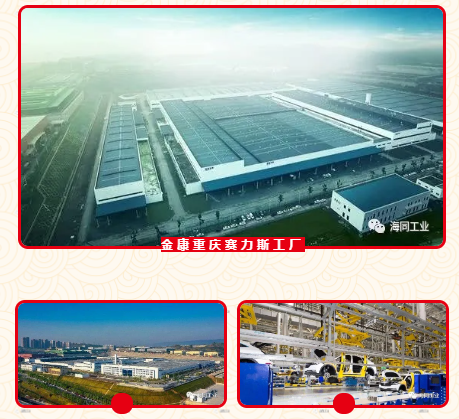 Take you to understand the automobile welding production line: close to automobile manufacturing 】
In the automobile manufacturing assembly line, welding adjustment line is the last process before the body-in-white vehicle off the line, is to ensure that the body-in-white assembly parts of the gap, surface difference, section difference precision and assembly consistency of the important links.
Its process equipment mainly includes assembly fixture, assembly auxiliary, inspection, tools and conveyor system, etc. Among them, the tools are standardized tools, and the conveyor system is a standardized tool. Among them, the tools belong to the standardized tools, conveyor system is relatively fixed mode, as long as it can meet the production program can be, its structure has a certain degree of universality, high degree of flexibility;
Only the assembly jigs and fixtures are used to ensure the rigid connection between the four doors and two covers and the body, and to control the gap between the body assembly and the connecting parts, the surface difference, the precision of the segment difference and the consistency of the assembly. Therefore, assembly jigs and fixtures, assembly aids, human factors efficacy considerations, design concepts, design basis, design structure, equipment debugging and application promotion will directly affect the assembly quality of the vehicle.
About Hyetone: Business and R&D 】
Guangzhou Hyetone Industrial Technology Co., Ltd (hereinafter referred to as Hyetone Industrial, Hyetone) was founded in 2004, and has been recognized as a high-tech enterprise of Guangdong Province, Guangdong Province Intelligent Human-Machine Interaction Exoskeleton Engineering Technology Research Center, Guangdong Province Robotics Backbone (Cultivation) Enterprises, Guangdong Province Specialized Specialized New Enterprises, and Guangzhou Municipal Research and Development Institutions over the years. It is an advanced equipment manufacturing enterprise integrating R&D, design, manufacturing and marketing.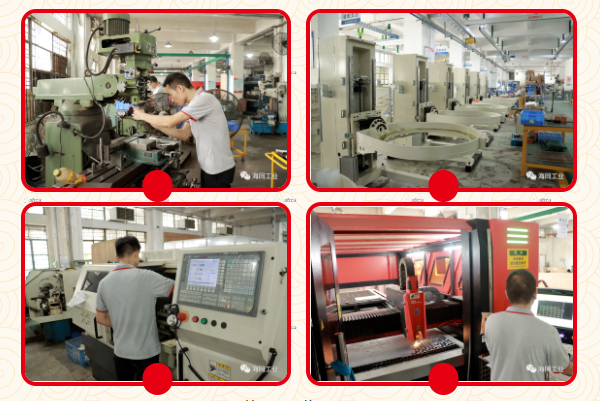 Hyetone Industrial Factory
Hyetone Industry always adheres to the innovation-driven enterprise development, and actively explores the human-machine interaction assisted equipment and fluid power technology, breaks the monopoly of foreign technology, and devotes itself to the technology of human-machine interaction assisted equipment, independently researches and develops a series of independent intellectual property rights of the core products, and owns the brand trademarks of "AMB" "EXO "FAP" brand trademarks, including: AMB intelligent power shift assembly system, EXO wearable human-machine collaboration exoskeleton, FAP FAP fluid power key components.
Driving product upgrading by innovation and consolidating competitive strength by quality. Hyetone Industry has a provincial engineering technology center, the technical team covers: mechanical structure engineers, automation engineers, embedded software, hardware engineers, control algorithms engineers, industrial design engineers, clothing designers, exercise physiology and rehabilitation experts and other cross-border professional and technical personnel, Hyetone Industry R & D technicians accounted for more than 35% of the total number of employees. Among them, there are 2 doctoral students, 8 master's students, and 80% of them have bachelor's degree or above. The main R&D engineers come from various famous universities at home and abroad, and the annual R&D expenditure accounts for more than 12% of the business revenue. The related human-machine interaction intelligent booster equipment, wearable human-machine collaboration exoskeleton and hydrodynamic key components have formed nearly 100 national patents, and have obtained ISO9001 quality management system certification, ISO45001 occupational health and safety management system certification, ISO14001 environmental management system certification, GB/T 29490-2013 intellectual property management system certification; The products have passed the certification of third-party testing organizations such as CE and Guangdong Provincial Institute of Quality Supervision and Inspection, etc.; PICC has made product liability insurance commitment for the whole line of independent products of Hyetone Industry.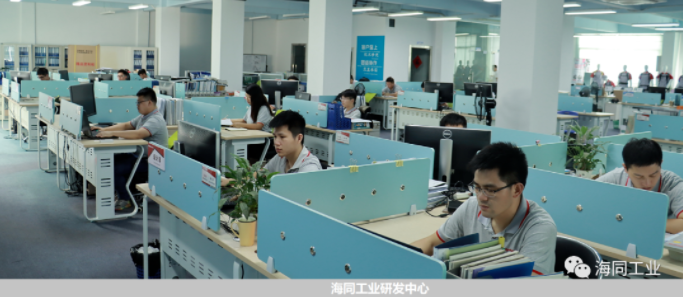 Hyetone Industrial R&D Center
AMB Industrial Intelligent Moving and Assembly System, designed in strict accordance with the principles of ergonomics, enables the operator to operate the equipment, the range of motion of the limbs is always in the most comfortable operation, convenient to operate the position, to assist industrial workers to carry out the flexible handling, positioning and assembly of workpieces on the production line and other functions, which is widely used in material handling, high-frequency handling, precise positioning, component assembly and other occasions; it can Greatly reduce the labor intensity of workers, improve production efficiency and ensure product quality. For different production environments and work patterns, Hai Tong provides customers with EHS human-machine interaction light labor solutions to help customers realize efficient material handling and assembly and digital material handling lean planning. The application of AMB human-computer interaction intelligent assistance assembly system is in line with the trend of flexible manufacturing in modern factories, helps enterprises to improve the labor health and labor happiness of employees, and enhances the added value of production lines, which is an important key component of modern industry.
Jinkang F1 New Energy Adjustment Line: Difficulties in Improving EHS Difficult Operations
Original equipment status:
The original model of front cover and rear cover auxiliary loading equipment adopts a double-layer aluminum alloy track combined with a stiff-armed manipulator.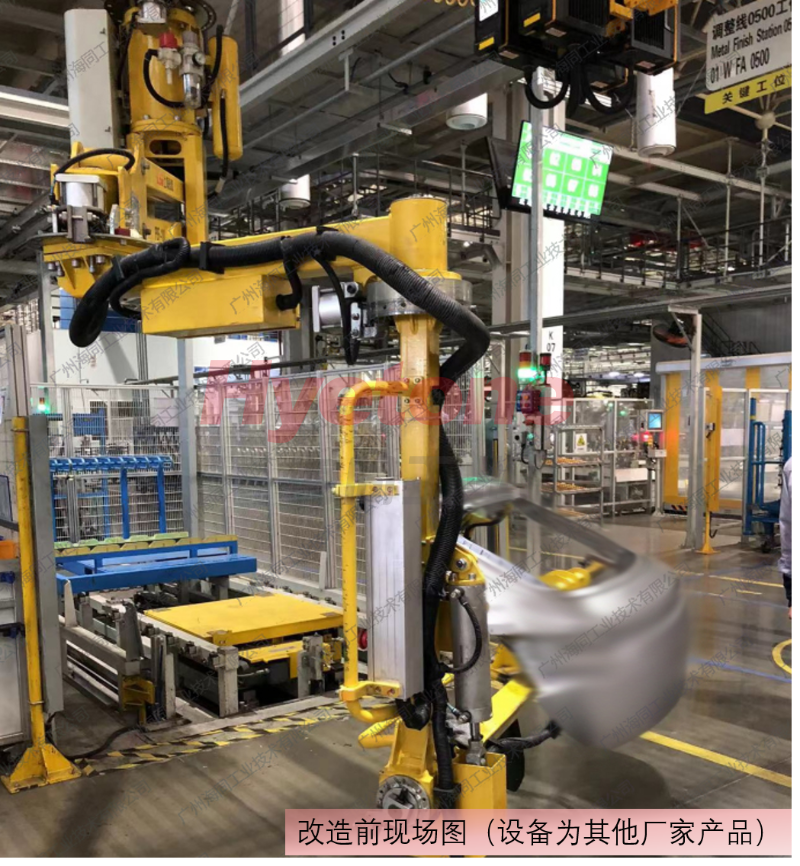 Before remodeling site plan 1
Problem Point 1:
The original manipulator space has multiple degrees of freedom and is combined with a rail system for horizontal travel. When the operator uses manual horizontal movement or swings the manipulator joints, the operation control is poor and swinging is difficult.
See the table of difficult operation indicators and improvement programs (Table 1), which were counted by EHS engineers of Hai Tong Industry.

Table 1: Main indicators of difficult operations and preliminary EHS human factors engineering optimization scheme for front and rear cover auxiliary upper parts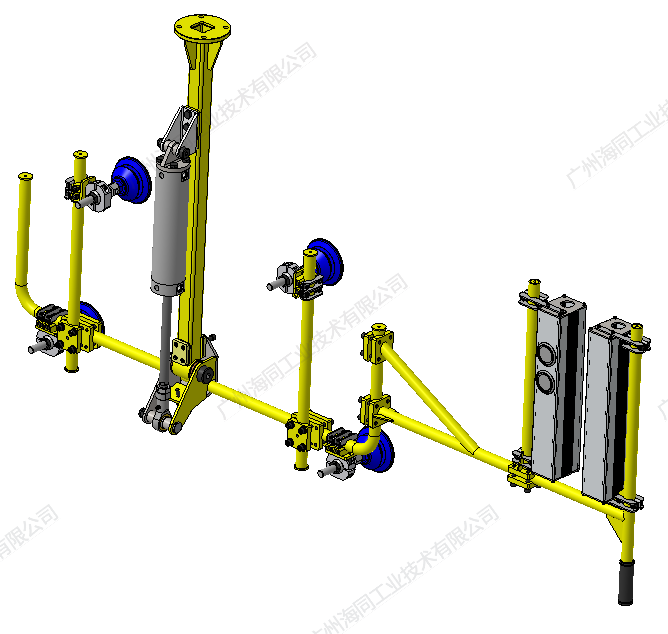 Improvement 2:
AMB-M120 rigid arm manipulator with AMB-F-HD "Human Factors Engineering Front Cover Gripper" and AMB-F-TG1 "Human Factors Engineering Rear Cover Gripper", based on the original gripper, the new gripper optimizes the design of the buttons and operating handle arrangement, Change the mechanical flip to a controllable angle flip when power is applied;
At the same time, double safety control buttons and mechanical anti-dumbness protection devices are added, which effectively improves the posture of WMSDs related to EHS man-machine operation positions, work space, work safety, and effectively reduces the labor intensity of the operation.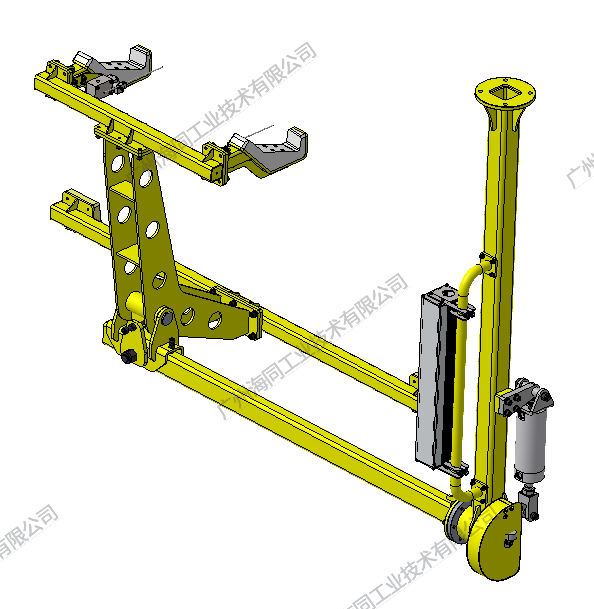 AMB-F-TG1 "Human Factors Engineering Back Cover Gripper"
Improvement 3:
The new model wing front end fixture adopts AMB-E series aluminum alloy rail and AMB-T500 series intelligent T-arm host, configured with standard energy interruption protection components and optional workpiece alignment protection pneumatic control circuit, optimizing the original long travel lifting and lowering alignment of the original bodywork to directly set the fixture non-stationary position>alignment height of 0.1 meters, X-direction from the front of the bodywork into the wing plate, and manually push the button to control the host to lower the 0.1 meter travel. 0.1 meter stroke, with mechanical limit and host alignment protection circuit, actively reduce the inertial impact of the fixture down to avoid the impact on the appearance of the body parts, reduce the risk of personnel operation alignment.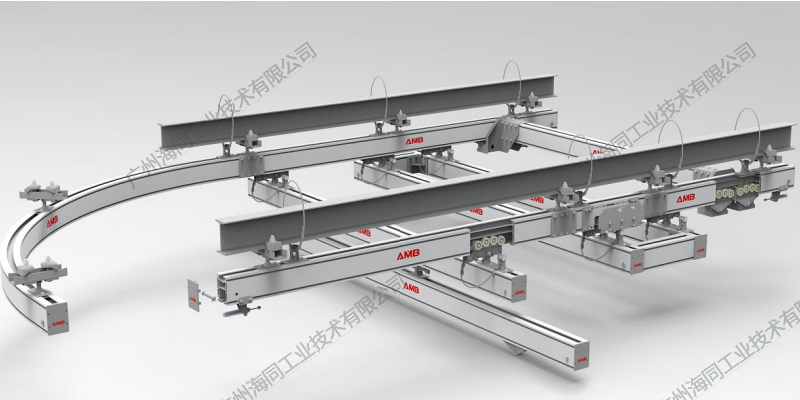 AMB Series High Strength Aluminum Alloy Rail System
Improvement 4:
Setting the proper operating height of the equipment, and button strength, workers operate more comfortable and convenient, and the height and angle of the equipment can be adjusted to adapt to the needs of different workers to operate.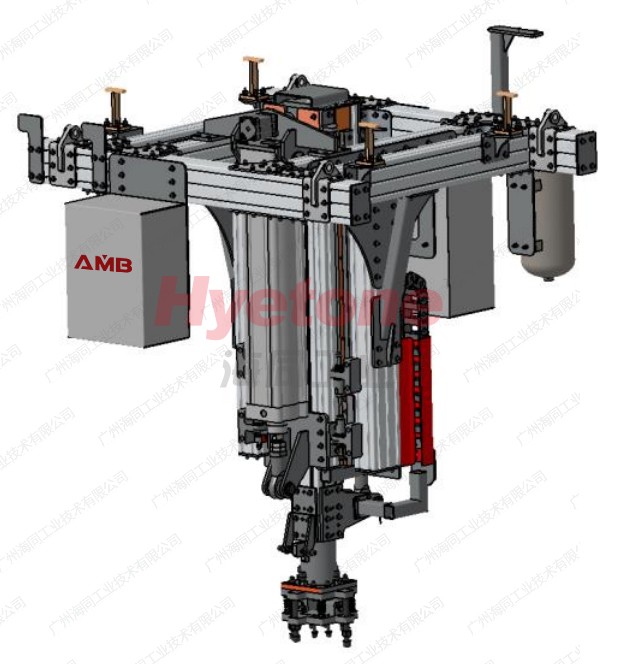 AMB-T Series "Human Factors Engineering Intelligent T-Arm"
Improvement 5.
With AMB-T series host optional angle matching unit, it can effectively make up for the body docking level and angle error, equipment suspension foundation installation accuracy, ensure the fixture self-adaptation body, realize effective positioning, ensure the assembly quality and reduce the time of alignment, effectively improve the assembly beat, and at the same time, effectively reduce the personnel EHS ergonomics related operations labor intensity, labor tension, product quality responsibility indicators.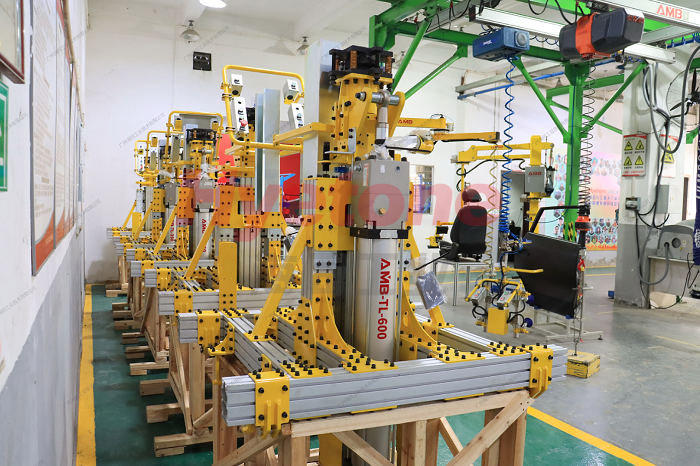 JinKang project before shipment